Entrepreneurial ecosystems drive economic growth, job growth, innovation and innumerable other societal benefits. They encompass not only the network of people and resources that support entrepreneurs, but also the culture of trust and collaboration that allows entrepreneurs to interact successfully within their communities.
Federal, state and local governments worked hard to sustain entrepreneurial ecosystems during the COVID-19 pandemic. Many of these programs were successful in helping businesses stay open during desperate times, though they also raised concerns about equality – particularly around the question of which groups benefitted and which were left out. The 2021 Trends in Entrepreneurship Report examines the role of bipartisan legislation, regulation and efforts to diversify access to capital in creating more inclusive entrepreneurial ecosystems – and shines a light on the importance of collaboration among policymakers, policy implementers and those who will feel the policy's impact to create better outcomes for all.
Economic First Responders
The U.S. federal government acted swiftly to support small businesses amid widespread shutdowns, launching the Payroll Protection Program (PPP) in April 2020. Although the program ran through its funding in just 13 days, PPP was reinvigorated with a second wave of funding within two weeks. Additionally, many state and local governments made emergency funds available to provide support to their struggling small businesses.
These lifelines were maintained and expanded as the initial shutdowns ended, but the pandemic pain continued. A year into the pandemic, President Biden signed into law the American Rescue Plan – a $1.9 trillion economic stimulus package offering an extension of PPP – along with several hard hit industry-focused relief efforts including $28.6 billion in grants focused on revitalizing restaurants and $3 billion to support aviation manufacturers, among others. The pandemic has highlighted the important role the government plays in the entrepreneurial ecosystem – both through direct support and through policymaking. But with the first round of PPP fraught with questions about whether funding was distributed to those most in need, the pandemic also showcased the need for equitable policies and implementation strategies.
The PPP Policy Evolution
The first round of PPP received scrutiny since some large and public firms were eligible to receive funds, even though program was geared toward small business. Additionally, research shows that banks played an important role determining where the money flowed, which partially explains why some funds initially went to regions that were less adversely affected by the pandemic1 – leaving underbanked regions more likely to experience lower levels of PPP lending as compared to areas with greater bank competition.
And although many small businesses experienced closures in the first months of the pandemic, black-owned, Hispanic/Latino-owned and women-owned businesses were disproportionately forced to close in response to COVID-19.2 Compounding the challenges, research indicates that Black-owned businesses received loans that were approximately 50% lower than observationally similar white-owned businesses.3 However, this effect was marginally smaller in areas with more bank competition and disappeared over time as the government made changes to the PPP program.
The challenges the federal government faced when funneling dollars to those most in need speaks to the disconnection that can occur between those who develop policy and the agents in charge of overseeing implementation – in this case, most notably, the banks. However, policymakers worked to address these access issues, and by the time program sunset in May 2021, the data indicates that minority-owned, women-owned, and rural-owned small businesses were able to access more of the funding. However, it is important to note that PPP demographic data has been limited. Some of the notable changes to PPP included prioritizing businesses with 20 or fewer employees, and allowing sole proprietors and contractors to be eligible, of whom a majority are women or people of color. Now the government is tasked with determining an equitable and straightforward path toward loan forgiveness.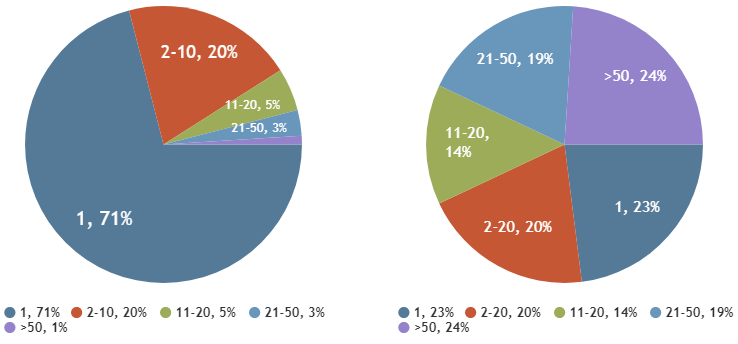 Source: SBA COVID Relief Program Report on May 24, 2021
Government's Role in Diversifying Venture Capital
Beyond the pandemic response, efforts to support entrepreneurship — at all levels — are gaining steam in Washington, D.C. In the last three years alone, both the U.S. Senate and House have established entrepreneurship caucuses, and policymakers have introduced more than a dozen bills to promote entrepreneurship, innovation and new business growth. Many of these efforts have an eye toward promoting diversity across the entrepreneurial ecosystem. One example of the government's growing commitment to support inclusive entrepreneurship comes from the U.S. Securities and Exchange Commission (SEC).
Facilitating capital formation is a pillar of the SEC's tripartite mission. Although rules governing capital raising are silent as to founders' and investors' race, ethnicity, gender, sexuality and other demographic characteristics, data demonstrates that access to capital varies widely according to who is seeking the funding.Recent regulatory changes could help address some of these disparities. For example, the SEC's new definition for accredited investors broadens the wealth-based requirements that have long been critiqued for stifling investment opportunities for companies without wealthy investors, in particular minority- and women-owned businesses and rural businesses. This includes allowing for individuals with certain professional knowledge, experience or certifications to now qualify as an accredited investor.
The SEC also addressed crowdfunding, which became a lifeline for many startups during the pandemic, by upping 12-month crowdfunding limits for startups from $1.07 million to $5 million. Regulation crowdfunding ("Reg CF") enables eligible companies to offer and sell securities through crowdfunding. Additionally, non-accredited investors can invest in new businesses while retaining some investor protections. This increase in the Reg CF fundraising limits had a major impact during the pandemic. The SEC reports that companies raised the same amount of capital in equity crowdfunding in July and August 2020 as they did during the whole first year of online fundraising (2016-17).4 Some in the venture capital space are taking notice, and see regulated crowdfunding as a mechanism to encourage more underrepresented groups to become investors. For example, Arlan Hamilton and her VC firm, Backstage Capital, are leading the way. Long known for promoting women, people of color and LGBTQ founders, Backstage Capital launched a widely successful campaign to raise funds through Reg CF, to encourage greater participation from underrepresented investors.5
Capital Raised Monthly via Regulation Crowdfunding in the U.S.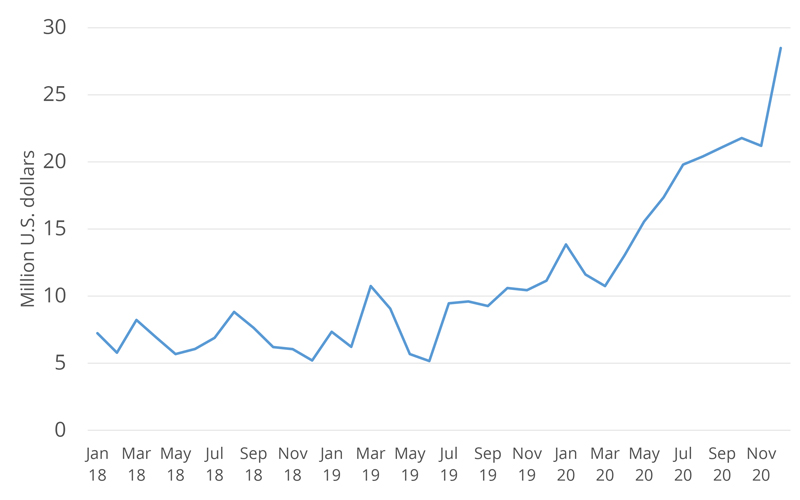 These examples from the SEC are just two of many ways the federal government can pull policy levers that have boots-on-the-ground impacts to widen the opportunities for more people to participate in entrepreneurship.
All Levels of Government Play a Role in the Pandemic Response for Small Business
The federal government is not the only governing body that has a stake in the entrepreneurial game. The government at both the state and local levels also represent important participants in entrepreneurial ecosystems, as highlighted by their integral role in the pandemic response for small and entrepreneurial businesses. In particular, many state and local governments provided emergency funding, often more quickly than some larger federal programs could. Additionally, many municipalities created loan and grant programs that specifically targeted support for women- and minority-owned businesses.
Throughout the pandemic, local governments were on the front lines trying to keep their main street businesses afloat. Beyond funding, they had other policy and programmatic mechanisms at their disposal including offering relief by deferring payment deadlines for utilities, taxes and licensing fees, as well as helping businesses navigate the evolving array of programs and resources available to them. Some of the most successful local-level programs included targeted efforts to reach the hardest hit groups, and paired loans with programming and events that encouraged residents to support local businesses. For example, many local governments created marketing campaigns that promoted local businesses and made zoning changes to allow more outdoor dining. To make these programs successful, government leaders had to work across departments and alongside community partners and businesses.
The Continued Need for Cross-Sector Collaboration
The pandemic not only upended existing business operations and new firm formation, it also drove creativity and innovation in ways the public and private sectors can work together to benefit small businesses. This collaboration not only results in better outcomes overall, but is also a key component to ensuring more equitable outcomes for founders and businesses. The lesson learned? Building greater connection between those who write and implement policy with those most likely to be affected has the power to ensure entrepreneurship and small businesses thrive amid and beyond the pandemic.
The 2021 Trends in Entrepreneurship Report, including insights on emerging technology in the healthcare industry, entrepreneurial funding and trends in human capital, is available for download.
---
1 Granja, J., Christos, M., Yannelis, C., & Zwick, Z. (2020). Did The Paycheck Protection Program Hit The Target? NBER Working Paper 27095. http://www.nber.org/papers/w27095
2 U.S. Securities and Exchange Commission. (2020). 2020 OASB Annual Report. U.S. Securities and Exchange Commission.
3 Atkins, R., Cook, L., Seamans, R. (2021). Discrimination in Lending? Evidence from the Paycheck Protection Program. Working paper retrieved from https://papers.ssrn.com/sol3/papers.cfm?abstract_id=3774992
4 U.S. Securities and Exchange Commission. (2020). 2020 OASB Annual Report.
5 Backstage Capital. (2021). Invest in Backstage Capital. https://backstagecapital.com/invest/
---